Based on the ordinary manual AC system, the automatic air-conditioning system takes kinds of sensors, program device, servo motor and/of control module and so on to drive the air conditioner every part.
Driver selects the wanted aircon working mode and fan speed by pressing the button/switch on the control device.The automatic AC system reach and hold the comfortable condition set by driver in advance, by detecting room temp and commanding each AC part to work accordingly via program unit.
At present, most of NEWBASE controller is automatic type, many manual type control panel are replaced by automatic ones, only a few manual controllers are still in production.


For new AC project, we suggest automatic models, because of the faultless function, easy operation, nice and kinds of appearance, low production cost of worker assembly, components and parts.
But if you need to get replacement for your existing manual ac controller, we could also do you a favor.



Two kinds of automatic Air conditioning system for vehicles.
There is semi-automatic A/C system and full automatic A/C system.
Their primary difference is if they have self-check function or not. The second difference is the type of actuator damper and the qty of sensors.
For semi-automatic air conditioner control , pls refer to our semi-auto controller here.
The structural composition of automatic air conditioner system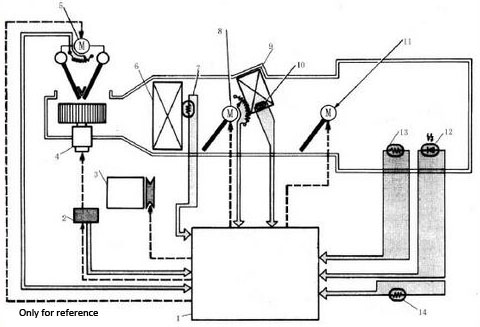 1. Air conditioner controller
2. Power transistor
3. Compressor
4. Fan motor
5. Air inflow servo motor
6. Evaporator box
7. Sensor of evaporator
8. Air blending control servo motor
9. Heat exchanger
10. Water temperature sensor
11. Air blowing mode servo motor
12. Solar sensor
13. Interior temperature sensor
14. Outside temperature sensor
On the whole, it includes several sections as below,
Cooling system – compressor, condenser, evaporator, similar as manual type
Warming/heating system – heat exchanger, water valve, etc
Air blowing system – fan motor, air flue, air door of air in/out
Electronic control system – Control unit, sensor, actuator device,etc
NEWBASE is the professional supplier of electronic control system for vehicle air conditioning&heating system in China, welcome to contact us for any question about vehicle HVAC control, we are very pleased to do you a favor.

We have experienced techinical team standing by you to promoting your projects and business.