This article could help you to get a general learning of NEWBASE actuator type and the application.
Actuators are a device for moving HVAC door flap to control temperature, fan speed, and air circulation inside of vehicle. NEWBASE actuator are widely used as the servo motor of water valve ,fresh air device and air blowing grid in the vehicle air conditioning & heating system. It's also used for engine cooling system to control the open/close of cooling water box.



Sort -
Ø In-take the exterior fresh air and circulating interior air.
Ø Control the blow in/outlet direction of each mode, vent, vent/floor,def./floor and def.
Ø For inside temperature adjestment
Application case -
For fresh air door used for bus, truck, van and so on. The actuator is used for turning on and the air flap to bring in the outside air to vehicle coach. Turn on air flap, the air conditioner system enter into internal recycle mode, turn off air flap, ac system go into outside recycle mode.

For ventilation device, we take 3-wire switch type actuator usually. For open fresh air damper, the controller gives signal to the control wire of actuator to drive the air flap on.

For air conditioner water valve. Newbase acutator is used as valve servo motor to turn on or turn off the hot water valve of heating system.

For heating function, user could select on/off type, linear type, mode type actuator as per the practical application. Same, the control signal comes from controller, the valve is driven by actuator accordingly to allow the hot water flow into radiator to heat the coach.

For air blowing control

in car or driver cabin. With NEWBASE actuator control, user could select the air blowing mode in cooling or heating. By turning on the relevant motor actuator, user could turn on head-blowing, arm-blowing, feet-blowing and such air blowing mode to get most comfortable driving condition.



Categorized by appearance, NEWBASE mainly provide 3 kinds of actuator at present.
Actuator 1-
This actuator is most popular type currently. It has two kinds of body shell as below,



| | |
| --- | --- |
| ADD type | JS type |
| | |
These two types have same position of installation holes, but they require different screws for assembly with different length. Customers could select the alternative type according to the actual application.
Both of them could match NEWBASE valve body to come into water valve products.
Actuator 2-
a. General view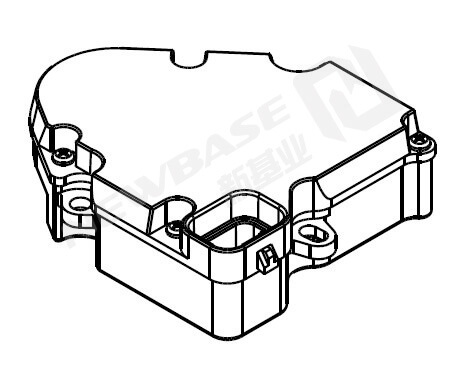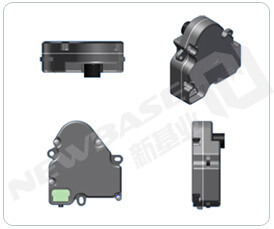 b. Actuator structure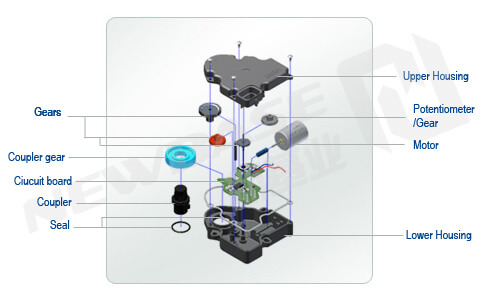 c. Technical data
Usually this damper actuator is used to control the heater valve of the vehicle HVAC system.
The simple parameter is as below for reference,



Operation voltage
operation temperature
Output Distance
Noise

DC9V~DC16V/DC19~DC32V

-40

℃

~ 85

℃

Customized

40dB

Stall Torque(kg/CM)

RPM(No Load)
Size(mm)
Weight(g)

20

1.5

80X90X30

170 Max


With this actuator, NEWBASE also supply water valve products as per customers' requirement,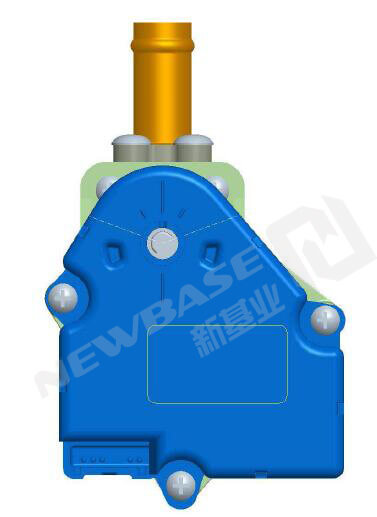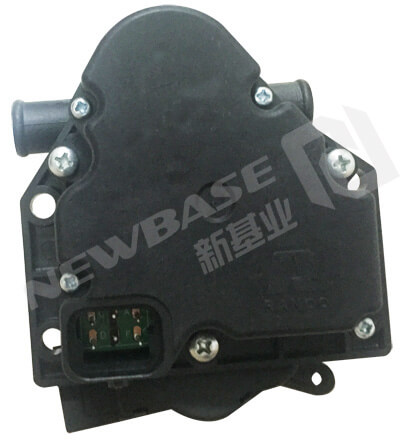 Actuator 3-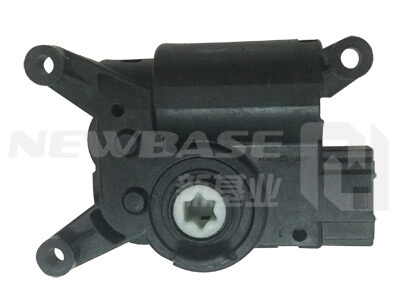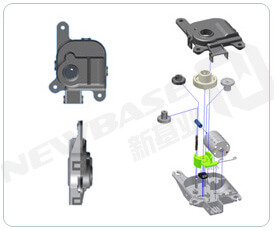 Operation voltage
operation temperature
Output Distance
Noise

DC9V~DC16V/DC19~DC32V

-40

℃

~ 85

℃

Customized

36dB

Stall Torque(kg/CM)

RPM(No Load)
Size(mm)
Weight(g)

18~21

3.5

71X95X28

110 Max
This damper actuator device is to control the air flow(damper) of the vehicle HVAC system.



For all the three types of actuator, customers could choose the control methods as below,
2- wire type, it open the damper to some an angle and close by changing the poiarity of wiring.
3- wire type, it turn on/off the damper by putting throught/cutting off the control wire.
5- wire type, the actuator could give a feedback of the angle to the HVAC system.
7- wire type, it could control the damper to stop on different positions.
Voltage control type, the actuator is driven by voltage signal sent by controller.
You can check the products list to get more information of each model.
What's more, the actuator initial position and stop position could be customized.
Welcome to contact us for further query!!